Made the rounds of the thrift stores here and a few at the next town over today, and found some pretty nifty stuff!
Today though, we're concerned with this clothing pack and one other item.
I found this My Scene fashion pack for just $3 in an "antique" store that's one of my favorite stops. (Favorite because of the unbelievable range of merchandise. Everything from McDonald's toys to actual for-real antiques!)
So let's crack this thing open and see what we've got and if it'll fit Punzie! Poor Eugene, he didn't get anything this trip.
Le open!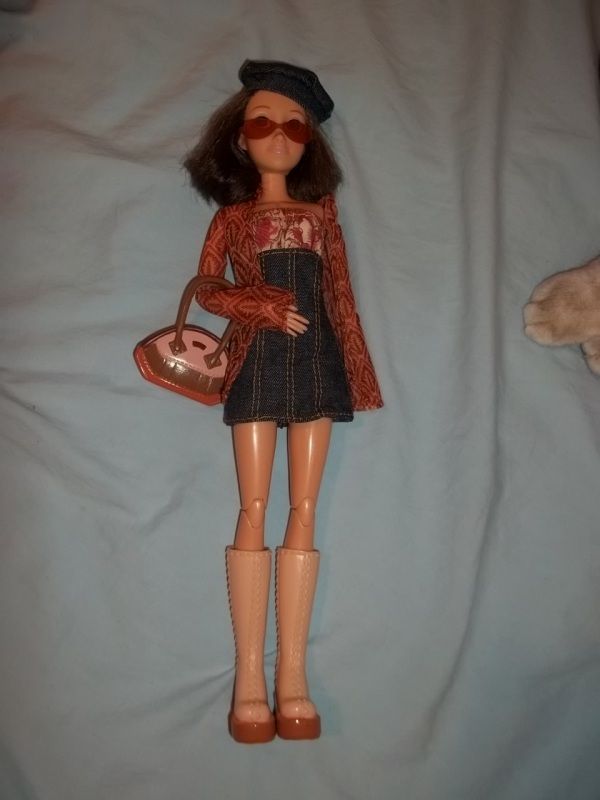 So we've got a pair of shoes that I'm completely uncertain about, a pair of sunglasses, a cute denim dress and matching beret, and a sheer blouse. I like that the colors aren't perfect matches, but everything goes together believably. It makes for a pretty realistic outfit. (If you don't mind the notion of kneehigh Ugg boots with a miniskirt, that is.) So let's see it on! Sorry for the bad pic! As you can see, the sheer overshirt is long! The sleeves are over-long on Rapunzel. The beret is actually too small, but will stay on with a little effort. The glasses are a great fit, however. The boots are a little small, requiring some effort to get all the way on Punzie's Liv body feet. The denim dress is made for a body a little thicker than a Liv on, and I've cinched the elastic a bit to make it work.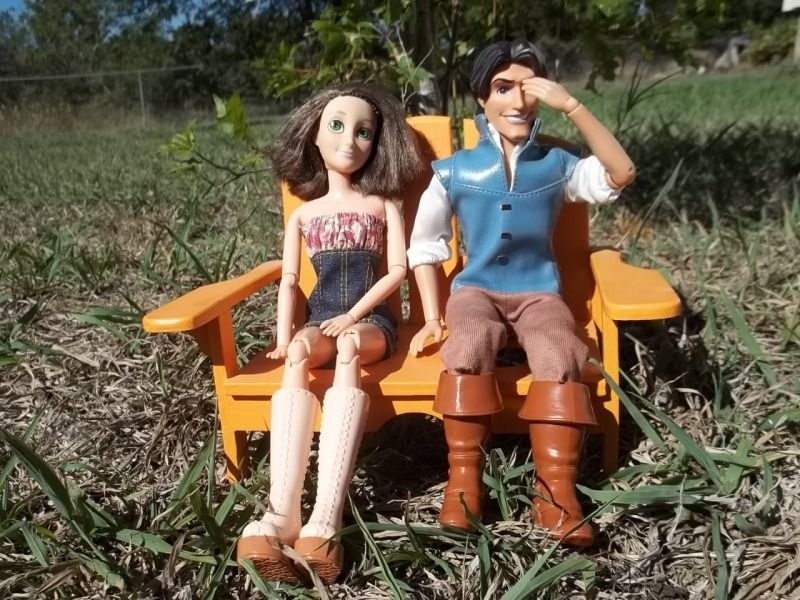 Not the greatest fit in the world, but very passable for $3! Let's see this in a better light! And you can see my other great find, this orange bench! Just $1, this was originally a votive candle holder. The seat is pretty low, (and it has two holes in it!) but I think that if I make a seat cushion, it'll fix both the problems. As you can see, Eugene's not that impressed. Well I'm not impressed with his too-short pants that still manage to be too big. So there, Eugene! (On that note, if you've got suggestions for clothing for Eugene and his
Fashionista Ken
Moxie Jake body, leave a comment!)
Rapunzel's pretty happy with the outfit, and the quality of the clothing definitely exceeds the price I paid. The shoes are pretty much the only part I don't really care for, but they do fit better than the beret does. If I come across more of these fashions/packs, I'll probably be tempted into picking them up.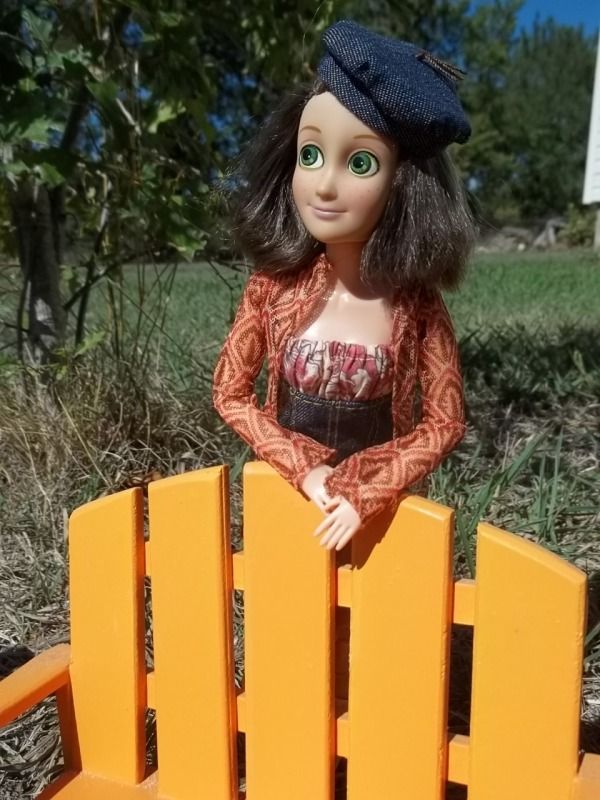 Thanks for reading!