The Princess' New Clothes!
For months now, I've been eyeing those Stardolls in their shiny new packages at Wal-Mart. I *knew* most of them had shoes that would fit Monster High dolls. And I *suspected* that most, if not all of their clothes would fit Punzie. BUT! Did I dare spend $23 apiece to find out?
No, I did not.
Last night, I discovered our local Wal-Mart had put all their remaining Liv and Stardoll stock out for a few bucks off. $18 each now. Hm... no. Today, I went back. Partially to see if the Ghouls Rule Abbey I knew they had in the back had made it out onto shelves yet (she hadn't), and partially to try and find the movie novelization for ParaNorman (not there, either). My quest to read this thing is a post on its' own, trust me.
Dejected, I swung over to the clearance table, noting that there were no dolls left. Sigh. A glance down one aisle revealed... STAFF! I scurried down the aisle as the shapes of doll boxes became apparent. All the remaining dolls were being marked down to $4 each. The clearance was for 1/2 off marked prices. I was sitting on top of the haul of the year with no competition yet!
I grabbed one each of all the remaining Stardolls and nabbed an abandoned wagon. All told, I bought 21 dolls, including two Skull Shores Frankie's. I think one of my dolls was nabbed out of my cart, since I got home without the sleepover Liv Daniela that I remember picking up. Since I got home, I've been prying open boxes and trying clothes on Rapunzel.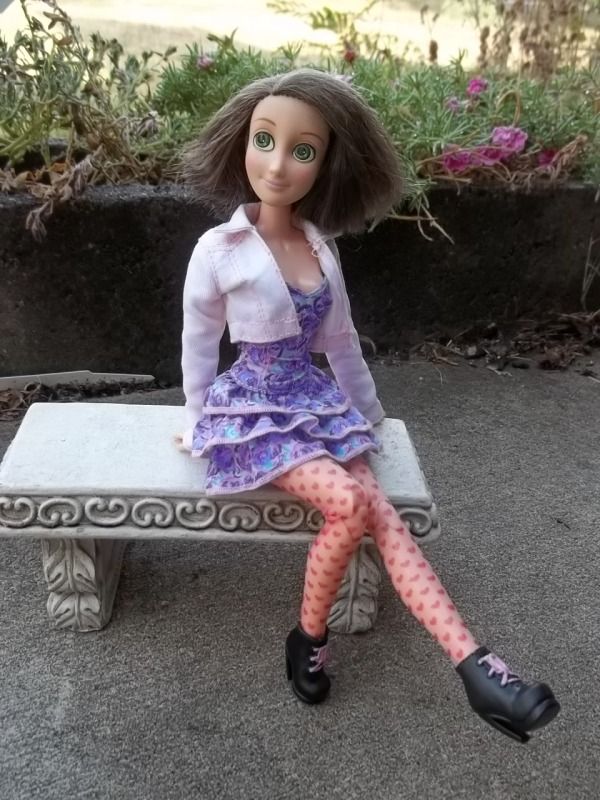 Rapunzel hasn't wanted out of the purple sweetheart Stardoll outfit since I got it on her. The very top of the bodice closure doesn't quite meet, but it still looks fantastic on her. The hosiery is too long, but I've already accidentally put a hole in them. (oops) The jacket sleeve length is too long, but I think it makes her more adorable. The shoes fit her great, and she seems to like them even though they have a bit of a heel on them.